Proudly Serving New Jersey, Philadelphia Metro, Connecticut and NYC Metro!
MyTiffinExpress now does NYC!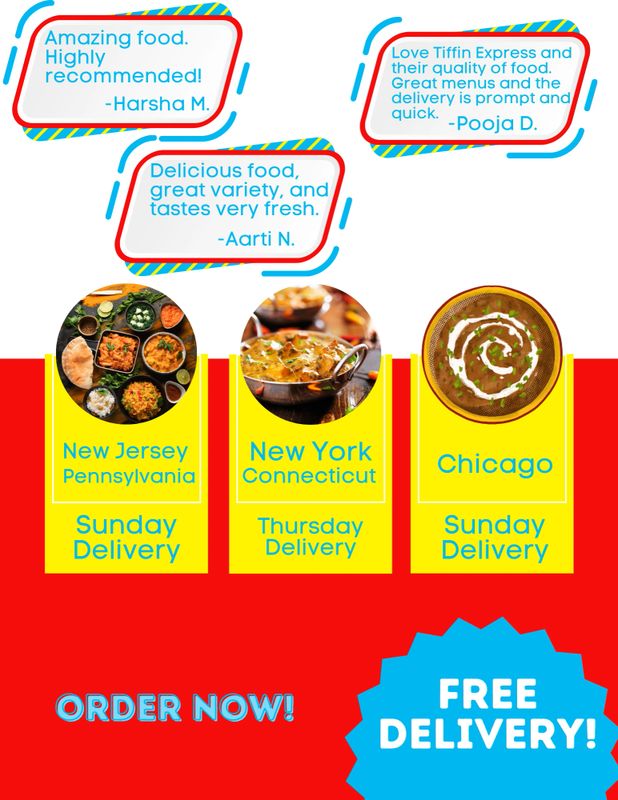 This Week's Menu. Delivery on 03/26.

1. Baingan Bhartha
2. Aloo Mutter
3. Veg Jalfrozi
4. Chana Masala
5. Paneer Makhani
6. Daal Makhani
7. Toor Daal
Choice of 20 Roties or 2lb of Rice

NEW Jain, Swamynarayan, Hearty & Gujarati Tiffin Menu

1. Desi Bhindo
2. Tindora
3. Cauliflower Bataka
4. Cabbage Vatana
5. Blackeyed Beans
6. Toor Dal
7. Panch Ratna Dal
Choice of 20 Roties or 2lb of Rice

Variety Tiffin

1. Pav Bhaji
2. Lasooni Gobi
3. Samosa Chaat
4. Chilli Paneer
5. Pani Puri
---
All
New Jersey and Pennsylvania orders must be placed Saturday night before 11:59 PM for Sunday delivery
.
New York and Connecticut orders must be placed Monday night before 11:59 PM for Wednesday delivery
. Any orders placed after 12:00 AM on cut-off day will be fulfilled the follow week.
Read more on how it works..